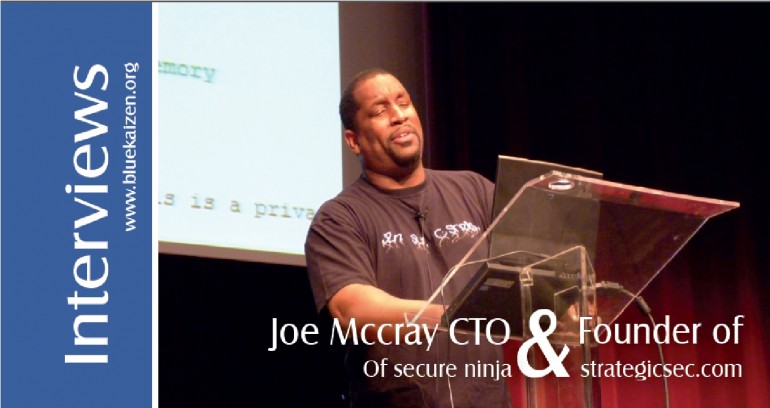 can you please introduce yourself to security kaizen magazine readers (your bio, experience, …etc ?
I am a US Air Force Veteran with over 10 years' experience in the IT Security industry.
I have had the privilege of doing several speaking appearances and seminars at major industry events. I am the recipient of the EC-Council
Instructor Circle of Excellence Award for several consecutive years, and the EC-Council Instructor of the Year Award. I have performed well over 500 vulnerability assessments & penetration tests and assessed well over 500,000 hosts.
I specialize in bypassing both network and application security systems such as intrusion detection systems, and web application firewall.
Can you tell us more about strategicsec.com website ? ( its goal, service provided, …etc)
The idea was to offer low cost training for people that are trying to get into the industry. It's really not designed to make money, it's how I try to give back to the industry that has done so much for me.
What made you take the model of cheap knowledge instead selling high expensive courses with thousands of dollars?
Being a minority in a white male dominated industry what was able to find good mentors was the primary driver for me. I was really lucky in that I found people that were willing to help me. Now that I am established in the industry this is how I try to give back.
When did you start strategic security and how did the idea come to your mind ?
A few years ago, I thought it was an easier way for me to help. I often teach the high priced courses. Along with consulting, this is how I make my living. The honest truth is that I didn't learn.
What problems did you face at the beginning?
Racism, and no money. I did everything at home since I couldn't afford to go to school to learn this stuff. Even to this day I still don't have a college degree, and I've only taken 4 professional classes in my life. I built everything in my home lab, got mentors, and got GOOGLE. That's how I learned. via these high priced courses that I teach so I try to do 2 things now.
1. In my professional courses – I try to give significantly more information, and value.
2. I offer the low cost training for people that are new to the industry.
What Challenges do you face now?
Keeping up with the technology is still the challenge for me. I work really hard to keep up with Network, Web App, Mobile, Cloud, Big Data and all of the new tools. I try to dedicate 8-12 hours a week to keeping up with the latest stuff.
How do you make marketing for your website, do you have any special strategy or it is just the word of mouth?
Really it's just word of mouth. There is no strategy since Strategic Security is not my primary source of income – Secure Ninja is. That's where I try to place my focus.
Do you have a team behind your work or it is only you?
My daughter mostly, and a few friends that help every now and again.
What is your plan for the next 3 years ?
Working my butt off to help Secure Ninja go from the premiere training company to a world class IT Security firm.
Do you have a team behind your work or it is only you?
My daughter mostly, and a few friends that help every now and again.
What Security Conferences that you are care to attend every year ?
To be honest I usually do a few conferences a month so I would recommend a website like.. ttps://secore.info/ they have a list of all of the conferences world wide.