Day 1 – 23th of November 2012:

Keynote : Social Networking in Cyber Intelligence
By Jeff Bardin (Served in the USAF and the US Army National Guard as an officer).


---

IS Egypt Hacked?.
By Omar Sherin (member of the OWASP foundation leader's board)


---

Program or be programmed!
By Osama Kamal (A Threat Intelligence Manager)

---

Business attacks
By Ehab Hussein & Sofiane Talmat (Two security professionals)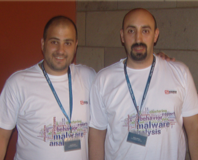 Download coming soon!
---

Minute of Fame.
By Different Project Owners
Download coming soon!