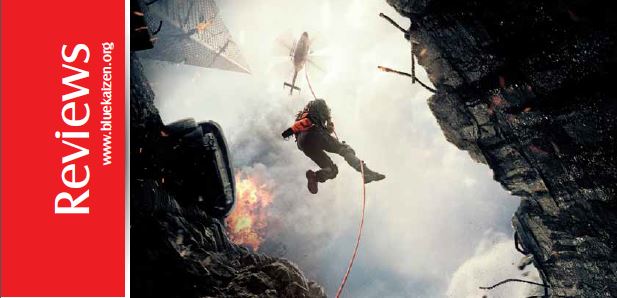 Purpose

Disasters can strike any time. These range from large-scale natural catastrophes and acts of terror to technology-related accidents and environmental incidents. The causes of hazards may be different – whether human negligence, malevolence or natural disasters but their likelihood (and seriousness) is no less real.

The purpose of this document is to give an overview of what is Business Continuity Planning and provide some guidance and resources for beginner.
General Information
This International Standard specifies requirements for setting up and managing an effective Business Continuity Management System (BCMS).
A BCMS emphasizes the importance of :
— understanding the organization's needs and the necessity for establishing business continuity management policy and objectives,
— implementing and operating controls and measures for managing an organization's overall capability to manage disruptive incidents,
— monitoring and reviewing the performance and effectiveness of the BCMS, and
— continual improvement based on objective measurement.
A BCMS, like any other management system, has the following key components:
people with defined responsibilities;
management processes relating to

policy,
planning,
implementation and operation,
performance assessment,
management review, and
improvement;
documentation providing auditable evidence; and
any business continuity management processes relevant to the organization.
Business continuity contributes to a more resilient society. The wider community and the impact of the organization's environment on the organization and therefore other organizations may need to be involved in the recovery process.
The Plan-Do-Check-Act(PDCA) Model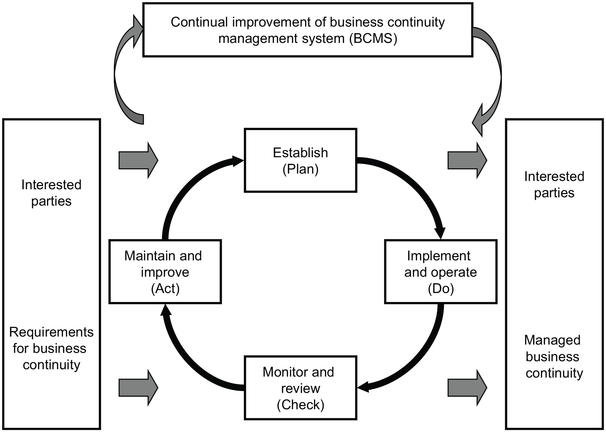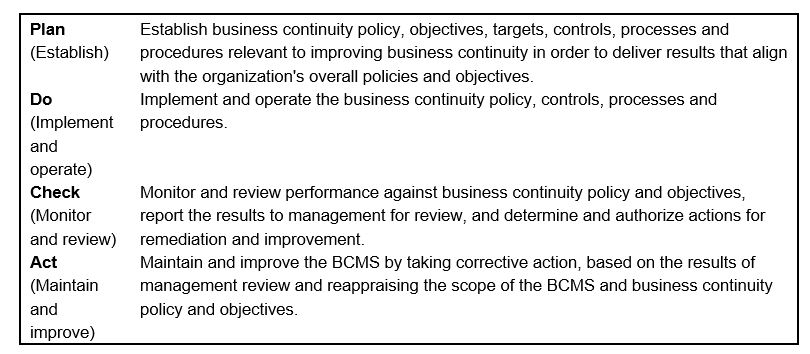 What Is Business Continuity Planning
Business Continuity refers to the activities required to keep your organization running during a period of displacement or interruption of normal operation.
Whereas,  Disaster Recovery is the process of rebuilding your operation or infrastructure after the disaster has passed.
According to Business Continuity Institute's Glossary2:
"Business continuity plan is a collection of procedures and information which is developed, compiled and maintained in readiness for use in the event of an emergency or disaster."
When We Need Business Continuity Plan?
We need Business Continuity Plan when there is a disruption to our business such as disaster. The Business Continuity Plan should cover the occurrence of following events:
a) Equipment failure (such as disk crash).
b) Disruption of power supply or telecommunication.
c) Application failure or corruption of database.
d) Human error, sabotage or strike.
e) Malicious Software (Viruses, Worms, Trojan horses) attack.
f) Hacking or other Internet attacks.
g) Social unrest or terrorist attacks.
h) Fire
i) Natural disasters (Flood, Earthquake, Hurricanes)
Who Should Participate in Business Continuity Planning?
Normally Business Continuity Coordinator or Disaster Recovery Coordinator will responsible for maintaining Business Continuity Plan. However his or her job is not updating the Plan himself or herself alone. His or Her job is to carry out review periodically by distribute relevant parts of the Plan to the owner of the documents and ensure the documents are updated.
How ISO 22301 Helps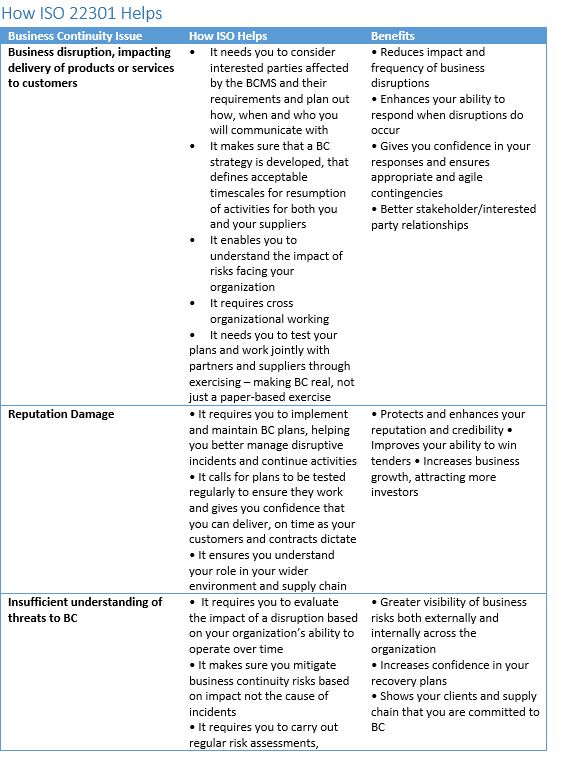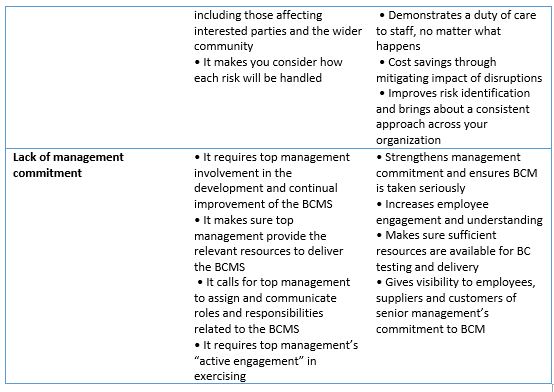 How to Prepare Business Continuity Plan
Business Continuity Planning Phases
Project Initiation
Define Business Continuity Objective and Scope of coverage.
Establish a Business Continuity Steering Committee.
Draw up Business Continuity Policies.
Business Analysis

Perform Risk Analysis and Business Impact Analysis.
Consider Alternative Business Continuity Strategies.
Carry out Cost-Benefit Analysis and select a– Strategy.
Develop a Business Continuity Budget.
3. Design and Development (Designing the Plan)
Set up a Business Recovery Team and assign responsibility to the members.
Identify Plan Structure and major components
Develop Backup and Recovery Strategies.
Develop Scenario to Execute Plan.
Develop Escalation, Notification and Plan Activation Criteria.
Develop General Plan Administration Policy.
4. Implementation (Creating the Plan)
Prepare Emergency Response Procedures.
Prepare Command Center Activation Procedures.
Prepare Detailed Recovery Procedures.
Prepare Vendors Contracts and Purchase of Recovery Resources.
Ensure everything necessary is in place.
Ensure Recovery Team members know their Duties and Responsibilities.
5. Testing
Exercise Plan based on selected Scenario.
Produce Test Report and Evaluate the Result.
Provide Training and Awareness to all Personnel.
6. Maintenance (Updating the Plan)
Review the Plan periodically.
Update the Plan with any Changes or Improvement.
Distribute the Plan to Recovery Team members.
Business Continuity Plan outline (simplified based on the sample BCP provided by MIT)
PART I INTRODUCTION 
PART II DESIGN OF THE PLAN
Overview a Purpose

Assumptions
Development
Maintenance e Testing
2. Organization of Disaster Response and Recovery
Steering Committee
Business Continuity Management Team
Organization Support Teams
Disaster Response
Disaster Detection and Determination
Disaster Notification
3. Initiation of the Business Continuity Plan
Activation of a Site
Dissemination of Public Information
Disaster Recovery Strategy
Emergency Phase
Backup Phase
Recovery Phase
Scope of the Business Continuity Plan

Category I – Critical Functions
Category II – Essential Functions
Category III – Necessary Functions
Category IV – Desirable Functions
PART III TEAM DESCRIPTIONS
Business Continuity Management Team
Organization Support Teams
Damage Assessment/ Salvage Team
Transportation Team
Physical Security Team
Public Information Team
Insurance Team
Telecommunication Team
PART IV RECOVERY PROCEDURES
Notification List
– Contact Information for all the Teams' members.
Action Procedures
– List of Actions to be carried out by each Team.
References
http://www.thebci.org/index.php/resources/what-is-business-continuity
http://www.thebci.org/index.php/resources/knowledgebank/cat_view/1-business-continuity/8-bcm-lifecycle
https://www.sans.org/…/introduction-business-continuity
About The Author
Khaled Alaa, Information Security Engineer at Raya Data Center