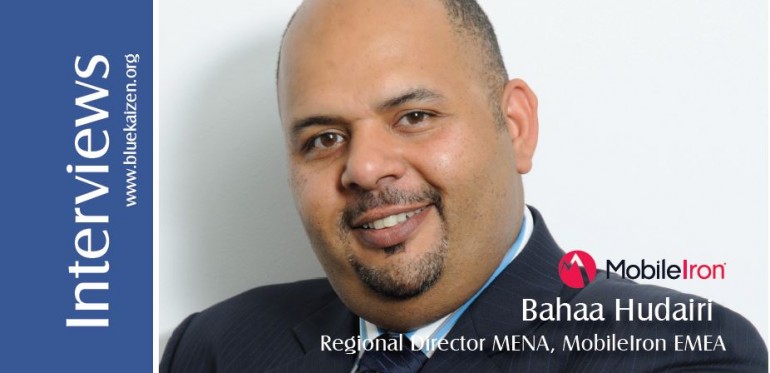 [Total: 4 Average: 3.5/5]
Can you please introduce yourself to security kaizen Magazine Readers?
My Name is Bahaa Hudairi , I am the Regional Director of MobileIron for Middle East and Africa. I have been in the IT industry for over 15 years where I started from the technical role moving to the current position. I have been working the region for the past 12 years, focusing on security solution and now is in the very exiting Mobility Space.
What is Mobile Device Management?
Well Mobile Device Management or (MDM) for short is the capability of securing and managing smart phones/ Tables/and in some cases laptops. This includes the ability to check on the health and status of devices and compare them to the corporate policies and the ability to automatically push email/Wireless/VPN/ and applications to the devices depending on their group subscription to active directory. It also means providing control and visibility to organisations over the corporate data. Seeing the huge increase and adaptations of smart devices into the corporate environment and with BYOD becoming a requirement MDM becomes a necessity for corporates.
Can you give us an overview about Mobileiron, when did it start? What kind of products do you provide?
MobileIron was started in 2007 when the iPhone was introduced to the market and our founders saw the opportunity that was there in this space. Since then we have grown our revenue from 0-100M and have grown our customers from 0 to around 7000 customers globally. We are now a publicly traded company on the NASDAQ with MOBL as the symbol. Our primary focus is large enterprise customers that require a platform for Mobility not just MDM. So basically we provide MDM, MAM, and MCM or what has now become called EMM ( Enterprise Mobility Management). We have been in the Gartner leaders quadrant for the past four years ( since the first introduction of the Quadrant) and the latest MQ places us as the leading visionary company in this space. We many offices around the word. We started our Middle East HQ in Dubai in 2013 to service our customers in the region. Since then we have added many customers in the region that saw the power and completeness of vision in our solution.
What differs your product from other vendors?
Four key points stand out about our offering compared to the market and these are :

• Experienced and Focused Vendor, Purpose Built for Mobile IT ( From the start we wanted to have a complete offering and this is why we built a platform for mobility , a solution that purpose built to handle the complex word of mobility. Also being a dedicated company focused on mobility allows us to keep us with the ever changing and challenging space as you have to keep pace with the OS vendors continued innovation and being dedicated to this fields allows us to stand out in front of the competition. Many large vendors came into this space, but quickly found out that they can't keep up with continuous changes and have failed and either stepped out of the space or sought alliances with dedicated vendors such as MobileIron or acquired solutions to help them compete.

• Comprehensive Solution across Mobile Apps, Content, and Devices ( MDM is not good enough these days and this is why Gartner has changed the MQ to mbecome EMM and added the additional components as a requirement. Now we have always understood this and this is the reason why we have built our solution to provide those functionalities. We have also been the pioneers and have many patents such as Sell-ective wipping data , local app store, and certificate management to name a few.

• Strong Partner Ecosystem, Broad Infrastructure Support ( After hearing our customers , we released that providing them with choice of preferred apps and integrating with their existing security solutions infrastructure is key and is very attractive for our customers, and because of that we led the market in introducing the most elaborate partner Ecosystem where they can integrate their solutions to leverage. Currently there are over 130 app and solutions integrated with or apps wrapped using our security.

• Commitment to Customer Success. All the current success that we've had so far has been attributed towards providing very strong mentoring and support for our customers and this will continue to be a main  focus us in the region and globally. How do you see your future growth?  We see huge opportunity in this field. With the current market conditions where there is a big consumer push towards mobile adaptation and business wanting to leverage this medium to reach their customers and get to utilise the mobility platform to enhance and increase user productivity and efficiency. Currently in the ME , there are many initiatives that are driving adaptation of the mobile platform especially in Government / Education / Large enterprises , and financial institutions.Mobility touches our lives in daily bases into everything that we do.
Mobile devices are exposed to a lot of threats, What kind of security features does your solution provide?
We provide many security features that can help protect mobile devices, such as protection of corporate
data from either loss or misuse. Also we secure the communication to and from the mobile devices. We also enforce encryption of data at rest on the devices and check periodically the health of the devices against the corporate policies such as ( black listed application , Compromised jail broken devices) etc.. We also can encrypt attachments on the fly as they pass through our gateway solution and provide DLP features such as protecting secure documents against copy /paste /screen shot leakage. But most important of all is that all there security features are invisible to the end user and don't in any way obstruct him from doing his work or get bothered by it. For the end user this will be a tool that allows him to do what was not possible before because it wasn't secured and this is our key differentiator