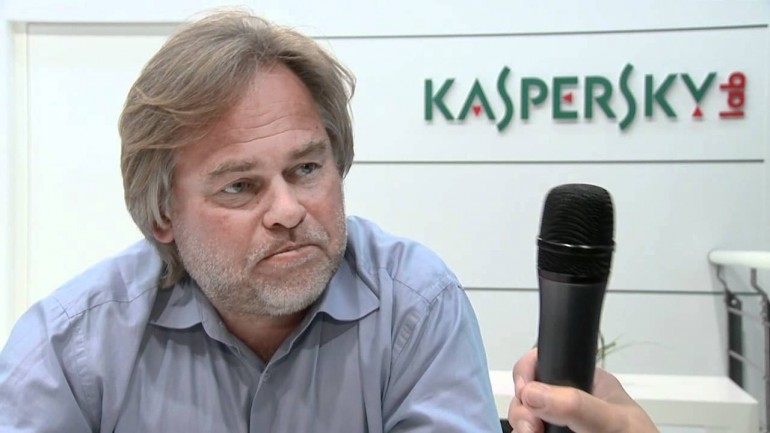 Bk Team : Kaspersky Labs is one of the success stories in information security business, can you tell us this story ? what brought you the idea?what were the obstacles that faced you at the beginning ?
Eugene: it all started with the cascade virus, which I discovered in 1989 while still a student. letters cascaded down the screen, a bit like as in the film The Matrix years later. I analyzed the virus and then developed a disinfection utility for it. Then more and more folks started coming to me for help. Viruses were appearing increasingly frequently, mercilessly causing major havoc with loads of computers. It was clear that they needed protecting and fast.
In 1991, I led a small team in developing Anti- Viral Toolkit Pro (AVP). It became the prototype for the first Kaspersky Anti- Virus years later. AVP was the first antivirus in the world to separate the software from the antivirus database – the standard for the industry today. We also came up with the idea of giving AVP the world's first antivirus graphic user interface.
AVP kept slowly growing, and in 1995-96, we already had several versions of AVP 1, and several of AVP 2. Besides these products – for the operating system of that time (MS-DOS) – we also released a product that provided protection for Novell servers – AVP for Novell 1.0.
Then, on June 26, 1997 we finally registered Kaspersky Lab! We weren't quite sure what to call ourselves at first, and I didn't want to use my surname really as, well, actually, I'm not all that much of a show-off! But I was persuaded by the others in the end to capitalize on my name being already rather well-known. Starting over from scratch seemed pointless – and expensive. And talking of money – our finances weren't all that great early on after setting up the company. When we had just 15 or 20 staff things weren't easy at all .
Earnings were still unstable; so much so that sometimes we had to forgo our salaries. We also found ourselves practically living at the office day and night… the cleaning ladies would take pity on us give us a sandwich.
These difficult years soon turned into unbelievably productive ones : in 1998 we released nine products and overhauled the antivirus engine. corporate contracts were being signed and we were taking on lots more staff and increasing market share.
Then, into the 2000s the company started growing geographically around the world, after having opened our first foreign rep office in 1999 – Kaspersky Labs UK, in Cambridge. This
was a very important step for the company. The business then developed very quickly – in terms of both complexity and geography: In 2003 for example, we opened one regional office after another all around the world – Germany, France, Spain, Italy, Japan and China. By 2009 we had a presence also in Poland, the Netherlands, Sweden, Romania, the USA, South Korea and Australia. In 2010 we became leader in the retail antivirus market in the USA. In that year we also started sponsoring Ferrari Scuderia, and continue to do so today!
I believe it's almost impossible to build a startup malware research center these days
BK Team : Do you think politics is involved in the information security business; for example, the USA banned Huwaei and ZTE in the States; Is that affecting Kaspersky, as Russian company, in its sales in the USA?
Eugene Kaspersky: But computers are assembled in China. Intel's processors are made in Israel, Ireland and China as well as the US. Most other chips are manufactured in either Taiwan or China. Microsoft R&D centers are in Israel. The SAP headquarters are in Germany, Sony's – Japan, Acer's – Taiwan. Does any of it all matter?
We live in the age of globalization. Kaspersky Lab has R&D centers and virus experts around the world, including Russia, Europe, Japan, China, the United States and Latin America. It's simply not a question of where you come from any more. In the early 2000s, when we first entered both the UK and US markets, we were perceived with a somewhat prejudiced attitude. Nobody noticed us. But that slowly but surely changed. And that was because of product superiority.
BK Team: You conducted an amazing report about Red October. Do you have a clue which country initiated such attacks?
Eugene Kaspersky: No particular location stands out from the information; however, the exploits appear to have been created by Chinese hackers, while the Rocra malware modules have been created by Russian-speakers.
Also, this doesn't look like a nation-state sponsored attack. The information stolen by the attackers was highly confidential and sensitive, and included geopolitical data, which can be used by nation states. Such information could be traded on the cyberunderground and sold to the highest bidder,
BK Team: Do antivirus companies including yours communicate with different security agencies in different countries . For example intelligence and others ? If yes, can you give us an example of such communication?
Eugene Kaspersky: Sure, we have relations with law enforcement agencies – in many countries, not only in Russia, to which we provide expertise. Indeed, all the world's leading security companies – including Symantec and McAfee/Intel – all collaborate with law enforcement bodies in their own countries and worldwide to help fight cybercrime. CERTs, the FBI, FSB, INTERPOL etc. – it's our duty is to help them investigate criminal cases.
Law enforcement agencies need the expertise of security professionals. When in their own country they work with their national security firms. When cases cross national borders they need to work with security firms from the countries involved, or, more helpfully, with international security firms.
we have relations with law enforcement agencies in many countries
For example, we've agreed to work closely with the INTERPOL Global Complex for Innovation (IGCI). I met with Ronald Noble, INTERPOL Secretary General, and Noboru Nakatani, IGCI Executive Director, recently at our office in Moscow. We've agreed to send on secondment our top experts to the IGCI once it becomes operational in 2014, and also to provide broad functional support and threat intelligence on an ongoing basis.
BK Team: What are Kaspersky Lab's plans in the Middle East in 2013?
Eugene Kaspersky: The B2B market is a key strategic growth area for Kaspersky Lab's development. Our positions in retail are quite strong, and now we're moving our focus to the corporate and enterprise segments. We're also concentrating on channel development and will enhance our recruitment activities. Finally, we'll continue our efforts on cooperation with CERTs in fighting cybercrime.
BK Team:  There is A bug  was published in Kaspersky Internet Security 2013 that can lead to a system freeze. Why don't you support different competitions like CTF or pw2own with good rewards, especially for teens, instead of making them go to the black market, and at the same time enhancing your product?

Eugene Kaspersky: In the Kaspersky Lab Education Department we have our own educational programs dedicated to the search for young talent; that's why we're not really interested in CTF competitions. Our programs are rather academic, e.g., the "CyberSecurity for the Next Generation" student conference.
WE W'LL Continue Our efforts on cooperation with CERTS in Fighting Cybercrime
BK Team : From your experience, what is needed to build a startup malware research center?
Eugene Kaspersky: You need a time machine to take you back in time 20 years ☻. I believe it's almost impossible to build a startup malware research center these days. Many developers have similar bodies. The competition is very tough, so building such a center from the ground up is extremely expensive. Furthermore, there are not all that many sufficiently skilled specialists on the planet; any startup would face the problem of recruitment. These two tasks make the probability of a successful launch minimal.
BK Team : If you would like to give advice to a malware researcher in Middle East who might be interested to join Kaspersky Lab, what would you say to him?
Eugene Kaspersky: I'm happy that you're fighting on the light side, not the dark! Only together can we save the world!
Check this out: www.kaspersky.com/vacancies.
We're always interested in talented professionals,
so feel free to drop us a line.