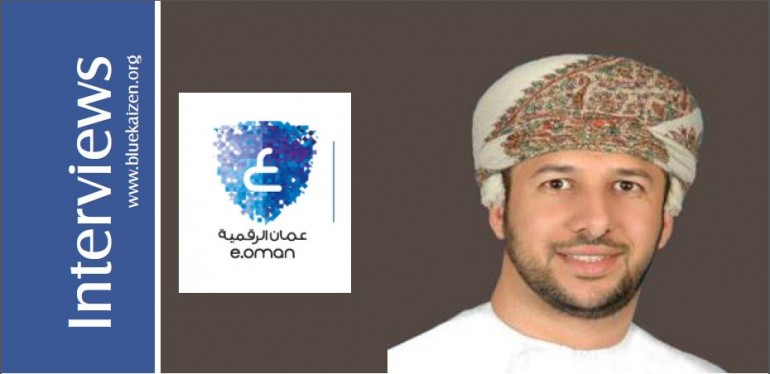 Can you please introduce yourself to security Kaizen magazine readers (BIO, Experience)?
My name is Badar Al-Salehi . I am the General Director of Oman National CERT which is the e-Oman national initiative aiming at addressing cyber security risks, Developing local cyber security capabilities within the sultanate of Oman, building cyber security awareness program of public and private sector organizations, Securing critical national infrastructure and key industries within the general public and ICT users. I joined ITA at the early establishment of this Authority in 2006 and since then I have been working in different national information security and critical infrastructure related projects. I am also a member of different regional and international forums and committees including GCC CERT and OIC-CERT steering committee member and the Oman CERT representative for the Forum of incident response and security teams (FIRST). I am an advisory board member at the college of modern Science and member of the Ministry of manpower Committee reviewing IT curriculum. I have been speaking and panelling at several regional and international ICT and cyber security forums, summits and conferences .Before joining ITA, I was also playing different senior roles at the Sultan Qaboos University and the Municipality of Muscat looking after the critical infrastructures and systems as well as information security where I worked on the first initiative in Oman on establishing an information security management system within the government.
What is the main role of Oman Cert?
OCERT's mission is to Developing cyber- security capabilities to increase the capacity of security incident detection and emergency responses to such incidents and also to ensure, ensure cyber-security awareness in public and private sector
organizations, including citizens and residents.
What is the Regional cyber Security Center? How it is established? And what is its vision and mission?
Towards achieving its goal of safe cyberspace across the globe, The ITU Arab Regional Cyber Security Center (ITU-ARCC) is established by the International Telecommunication Union (ITU) and the Omani Government, represented by the Information Technology Authority through its collaboration with International Multilateral Partnership against Cyber Threats (IMPACT) with a vision of creating a safer and cooperative cybersecurity environment in the Arab Region and strengthening the role of ITU in building confidence and security in the use of information and communication technologies in the region.
In line with the objectives of the ITU Global Cyber security Agenda (GCA), and the ITU-IMPACT initiative, ITU-ARCC will act
as ITU's cybersecurity hub in the region localizing and coordinating cybersecurity initiatives. ITU-ARCC is hosted, managed and operated by Oman National CERT (OCERT). The Centre is designed to cater for the cybersecurity needs of the Arab Region.
The Centre was officially launched on the 3rd of March 2013 at the Oman National CERT in Muscat.
What are the main services provided by ARCC?
ITU-ARCC services offers a variety of cybersecurity services to meet the difficult challenges of fighting cyber threats and to support the center's aim. These services align and agree with ITU Global Cybersecurity Agenda (GCA) which intends to enhance the confidence and security in the information society. The GCA was launched on 17th May 2007 for international cooperation and strategies to improve global cybersecurity posture .
ITU-ARCC provides the following services:
•Cybersecurity Strategy and Governance
•Cybersecurity Assurance & Compliance
•Cybersecurity Capacity Building
•Emergency Incident Response
•Technical Services and Information Sharing
Can you give us more information about the Regional Cyber Security Summit 2015?

Information Technology Authority represented by Oman National CERT (OCERT) is hosting the Regional Cyber Security Summit, in cooperation with the International Telecommunication Union (ITU), IMPACT and Bluekaizen on 29th – 30th of March in Muscat, Oman.
The Regional Cyber security Summit in 2015 focuses on future expected threats and measures, also aims at connecting public, private and academic sectors with the main  purpose of providing an appropriate platform m for up to 200 senior ICT and cyber security officials from the MENA region to discuss, formulate strategic directions and plans to tackle emerging threats to the global and regional Security sector .The conference is targeting different CERTs in the Arabic region, Chief Security Officers and strategic positions in different organizations either from Oman or Arab countries.
Security professionals from all over the world are welcome to submit their talks before 20th of February, if they are interested to present in the fourth version of RCSS For more information you can check the summit website.www.regionalcybersecuritysummit.com
What do you think is the greatest achievement for ARCC in 2014?
In year 2014, ITU-ARCC performed and delivered more than 15 events for Arab member states under the service category such workshops, conferences, and assessment at regional level.
What are ARCC and Oman Cert plans in 2015?
The next years ITU-ARCC will focus on designing and implementing national cybersecurity strategies for Arab countries to achieve significant improvement in the security posture. In addition, ITU-ARCC will conduct and implement cybersecurity measures in region.
What are your wishes for the Arabic region in the Information Security field?
The main purpose of ITU-ARCC is to support the member states of Arab Region in developing and improving cybersecurity through the development of sound cybersecurity policies and capabilities, building human capacity, developing related tools, applications, templates, procedures and manuals.  ITU-ARCC wishes to uniting and strengthening cybersecurity initiatives and programs to improve cybersecurity posture in Arab region against cyber threat through regional cooperation.