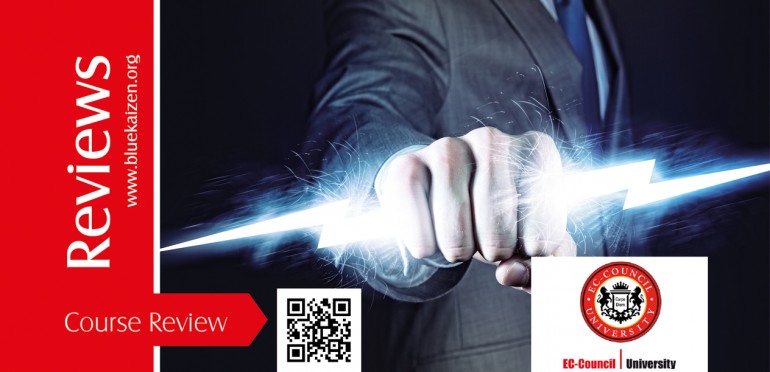 [Total: 6 Average: 2.2/5]
About MSS
It is first program in information security provided 100% online. It aims to prepare well-educated professionals in information security and assurance. I was in 1st group that enrolled in this program from Egypt. EC-Council and New Horizon training Center launched this program in Alexandria in 2009 and facilitated all the enrollment procedures for selected network professionals in Alexandria. The admission requirement was very strict at that time
Bachelor's degree from an accredited institution in computer science or related field is a must
TOEFL for non-English speakers with minimum 550
At least 2 years experience in IT field
Two letters of recommendation
Personal Statement
Copy of the Undergraduate transcript in English and Passport
100 USD application fee
These requirements have been modified lately so please refer to their website to have the latest admission requirement. [1]
Course Structure
It is required to have 36 credit hours to earn the degree. The courses were divided into two categories (Core and electives). It is a must to take 6 course courses in information security (18 credit hours), then select 6 courses including capstone project (18 credit hours).
There is good news for certified CEH and other EC-Council Certifications, including CHFI and ECSA/LPT. You can transfer these certifications into credit hours and skip their related courses.
| | | |
| --- | --- | --- |
|   | No of Courses | Total Credit Earned |
| Core (3cr each) | 6 | 18 |
| Elective (3cr each) | 5 | 15 |
| Capstone Project (3 cr) | 1 | 3 |
| Total | 12 | 36 |
The Master's of Security Science program solidifies an excellent mix of executive leadership and tactical information security skills by educating individuals in industry leading technologies and skills, executive leadership, psychology, management, law and ethics. Focusing on topics like "The hackers mind," "ethical hacking", and even "global leadership" provides a very unique skill set arming the graduate with the tools, knowledge, and ability to lead effectively against advanced persistent threats such as individually motivated hacktivists, state sponsored organizations, even organized crime exploiting digital technologies.
Mode of Study
MSS is totally 100% online study, allowing you to complete course work in a flexible time frame that fits you own schedule. You have to proper Computer and connectivity to be able to participate in class activities.
Each course is represented in ten-week courses that constitute 3 credits per course.  All courses constitute approximately 135 hours of work per course (reading, online discussion forum postings, assignments, papers, and supplementary requirements). Actually you will have mix of these assignments each week and submit the entire requirements through the Learning Management System (LMS) portal before the weekly deadline. Time and stress management are required to complete readings, assignment, discussion and quiz at the proper time. You can enroll in two courses by maximum in each term and you have to carefully balance between work, study and personal commitment. The core courses are heavy and consist of projects and many requirements that must be fulfilled.
Minimum grading to pass the course is C (79 -70%) and you have to maintain cumulative GPA 3.0/4.0 to continue the program and earn the degree.
Instructors are very friendly and helpful. They will provide guidance and assistance during the course. They are going to evaluate you weakly for each assignment. EC-Council University has strict Academic Honesty Policy toward cheating, plagiarism, fabricating and unauthorized collaboration between students. They have software that able detect "copy-and-paste" paragraph and percentage matching with any other documents exist online so don't try this technique and use your own words.
Books and Materials
EC-Council University does not supply books, tools, electronic equipment and electronic supplies for each term of instruction. Although you have to pay for access to an online library provided by EC-Council University, additional book purchases may be required for certain courses. Some of these books are not easy to get because of its cost and shipping problems. Some of these book can be found online as softcopy but through illegal channel. Other books are available in public library.  Only six courses that have this issue, so you have to check the availability of the books before selecting these courses.
The online library services of Books 24/7 or academica.com are useful and consist of rich materials. Most of the courses are delivered with educational slides that fully covered the objective of the course.
Program Cost
MSS from EC-Council is an expensive degree. You will pay a total of $17,500 during your study period… but wait this is just the official cost. Registration, application, library and technology fees $675 are paid one-time at the beginning. Another $300 will be paid at the graduation time. Students pay tuition on a course-by-course basis at registration period before starting of the term. The expected completion of the program is four years by maximum. Payment can be done using PayPal, credit card or wire transfer. Officially, tuition per credit hour is $450 but they offer a discount up to 50%, which reduce the total cost to be around $9,500. EC-Council offers this discount based on geographic location and international currency values.
You have to determine your budget before starting this program because you will pay around $2400 per annum for 4 years…. Still expensive?
Accreditation
EC-Council University is an applicant for DETC [2] accreditation. It is expected to complete all the DETC process in 2014.
You have to consider that MSS is a professional master not academic one because it is not accredited yet. Students considering continuing their educations at, or transferring to, another institution must not assume that credits or degrees earned at EC-Council University will be accepted by the receiving institution.
My Personal Experience
I started this program in 2009 in Alexandria, Egypt. We were about 10 students and the first group from Egypt in EC-Council University. The course structure and credit hours was different (42 instead of 36 now). The tuition fee was much less than now and the portal was very poor. During my study from 2009 till 2013, they have done a lot of changes to the program to be more attractive including trying to obtain the DETC accreditation. Some of the recent changes include access to virtual labs to do on-hands exercises, proctored exams, courses are now 10 weeks instead of 8, 2 different sub-specializations (management and information assurance), video streamed lectures (work in progress), more payment methods, updated LMS, among others. Now they offer a special topic course in Cloud Computing.
The things that attracted most about the program was the diversity of security related courses, from general security, to Wireless Hacking, Ethical Hacking, Forensics, Disaster Recovery, Business Continuity, Pen Test, Secure Programming, Securing Linux, Leadership, Project Management others.
I didn't seek the Master Degree as much as I was seeking diversified knowledge in information security.
MSS program provides you with wide and in-depth of knowledge in information security domains. You can easily become CISSP certified after finishing this program.
The Capstone project is the final step before the graduation. It is intensive course that cover all the area studied in the program. After successfully completing the Capstone, you have to pay $300 to receive your graduation certificates and 3 copies from official transcript by courier.
The reality is that academic degrees don't carry much weight in the information security business. For consultation, CISSP and other certification are more acceptable than academic degree from reputable university.
No doubt EC-Council is well known in the certification market, but find a similar program to the MSS, and there's none as close. This program allows you to have the opportunity to obtain professional and academic degree after getting accreditation.
MSS is expensive compared to any other certificate. EC-Council certainly markets itself aggressively in the IT security space. That along with the overseas stamp of earning an American University degree might help explain how it sells its high-priced unaccredited degrees. It might be legitimate and valuable if it became widely known and accredited.
Master of Security Science SWOT Analysis
About EC-Council University
EC-Council University is a leading provider of information security education and training to professionals in the security and military fields, and post-graduate students. It is the developer of the 'Master of Security Science,' a 100 percent online degree program designed to provide students with a solid foundation in information security. The MS information security course is suitable for students with a wide range of previous security experience. The MSS program is offered online, enabling students to access classes from any location in the world and at any time. The University also offers several certifications, including Information Security Professional, IT Analyst, Digital Forensics and Executive Information Assurance, IT Disaster Recovery Certifications. Digital Forensics and Executive Information
Reference:
[1] https://www.eccuni.us/Portals/0/Doc/EC-Council-University-Prospectus-brochure-2013.pdf