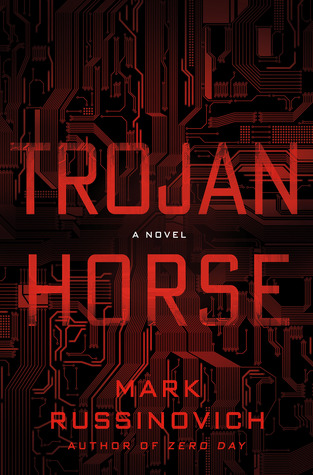 It's two years post-Zero Day, and former government analyst Jeff Aiken is reaping the rewards for crippling al-Qaida's attack on the computer infrastructure of the Western world. His cyber – security company is flourishing, and his relationship with Daryl Haugen intensifies when she becomes a part of his team. But the West is under the East's greatest threat yet. The Stuxnet virus that successfully subverted Iran's nuclear defense program for years is being rapidly identified and defeated, and Stuxnet's creators are stressed to develop a successor.
As Jeff and Daryl struggle to stay together, they're summoned to disarm the attack of a revolutionary, invisible trojan that alters data without leaving a trace. As the trojan penetrates Western intelligence, the terrifying truth about Iran is revealed, and Jeff and Daryl find themselves running a desperate race against time to reverse it – while the fate of both East and West hangs in the balance.
As you may know, "Trojan Horse" is the 2nd novel for Mark Russinovich the author of "Zero day" novel. Jeff & Daryl are facing a new challenge. The Trojan was detected on a machine after causing officeworks to crash while opening a highly classified report from the United Nations on the progress of the Iranian nuclear program. Imagine a Trojan that is able to alter your digitally signed data, your databases or your knowledge base; you won't be able to trust any documents either created by you or received from your trusted contacts.
Starting the investigation with the recipient's computer in London to the sender's office in Genève, Jeff and Daryl had very hard moments with trained agents and dead bodies on their journey after the Trojan. In the Novel, we'll move between London, Genève, Iran, China and Turkey while focusing on the cyber war between USA and China and the growing relation between China and Iran .
If you already read Mark's 1st novel, you'll find this one much better not only from plot point of view which was well built up but also from the obvious improvement in the author's style, characters depth and linking his novel with Stuxnet while describing its effect and how it was able to bring the Iranian Nuclear project to its knees for some time. Mark didn't ignore mentioning the defects in the Anti-Virus industry and how long it may takes for the Anti-Virus vendors to update their databases with new viruses' patterns.
At the end, I enjoyed reading his novel and I would probably buy his next novel and I recommend it to those in Security field or even casual readers who may be interested in cyber security topics. My previous rate for Zero day was 3, but this time I would rate it with 4 out of 5.
About The Author
Mohamed M.Ebrahim, Principal IS security Engineer at Valeo