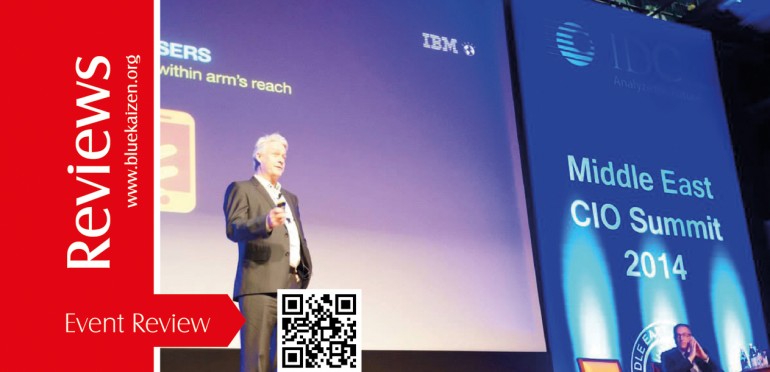 On 24th and 25th Feb., The Jumeira beach hotel in Dubai hosted the annual Middle East CIO summit event by IDC.
CIO summit is an annual event targeting CIOs from different countries in the Middle East, different sectors and different cultures for one purpose; that is to present the latest technologies, and provide them with updated strategies to meet the challenges of today's development.
This year's event was more special than every year. the Number of sponsors and exhibitors is doubled. CIO Summit 2014 was showing more than 30 exhibitors and sponsors this year. Furthermore the number of attendees had been increased to nearly 250-300 CIO from UAE, Oman, Qatar, Bahrain and others
In CIO Summit 2014 IDC introduced a new terminology: the Third platform; most sessions were focusing on presenting this new concept to attendees. According to IDC, The third platform is the near future for IT where companies are moving to four main technologies (Cloud, Mobility, Big Data, and social business).
The below picture is describing more and it was nearly in all speakers slides
The 2 days conference started by a keynote from H.E Sheikh Nahyan Mabarak Al Nahyan , Minister of culture and youth ,UAE.
The event topic was mainly going around the idea of tech and transformation and how the CIO summit can deal with the inevitable change.
"change before you have to " noted sa'di Awienat CTO and GS leader Gulf ,EMC
In his session "The time to redefine it is now!" he showcased that the problem is mainly that the companies are taking IT innovation for granted. And that companies does not have enough resources when it comes to security especially staffing, emphasising that in the upcoming years the specialisation in security will be highly needed and that a good candidate will have to be technical focused as well as business focused.
The rest of the sessions were presented in the main conference room, a variety of speakers talking about interesting topics; to name a few of the sessions:
• Transformation 2020 presented by Crawford del prete, EVP, IDC
• Digital revolution presented by Abduallah Hashim, SVP, Etisalat
Then sessions were divided into 3 break out sessions, each of different topics, we made sure to attend the one about security called; Envisioning a new approach of information security.
The session featured a panel discussion moderated by IDC participants:
• Bill hau, Vice President, FireEye
• Nader Henein, Regional Directory, product security, BlackBerry
• Mohamed Amin, Senior Security Researcher, Kaspersky Labs
• Mukund Seetharaman, General Manager, Wipro.
• Followed by a presentation from Shaimaa Almarzouqi from GASCO about the risk of Social Media and the risk of unlimited exposure online.
Also we had another interview with Ahmad Mokhtar from vision solutions where we talked about their products and especially Double take . you can watch the full interview from here:
http://www.bluekaizen.org/interview-with-ahmed-mokhtar-vice-president-of-sales-growth-market-vision-solutions/
Also, Security Kaizen magazine made an interview with infowatch , a company specialized in DLP ( Data leakage prevention ). You can watch the full interview on our website here: http://www.bluekaizen.org/interview-with-andrey-sokurenko-business-development-director-info-watch/
Nader hanein
security advisor of black berry , was there and we had a nice chat about black berry security and how different governments had some concerns in deploying blackberry solutions . You can watch the full interview from here: http://www.bluekaizen.org/interview-with-nader-hanein/
Overall, the event was a good opportunity for both CIOs and vendors, for one to know the latest products in the market and for the other to have an opportunity to present their products and solutions.
Finally one advice was given to attendees for the best practice is always going back to basics when it comes to security
"You can spend lots of money but without the right policy you have no security" stated Sudhir Menon , Senior Manager Security Services , Etisalat .