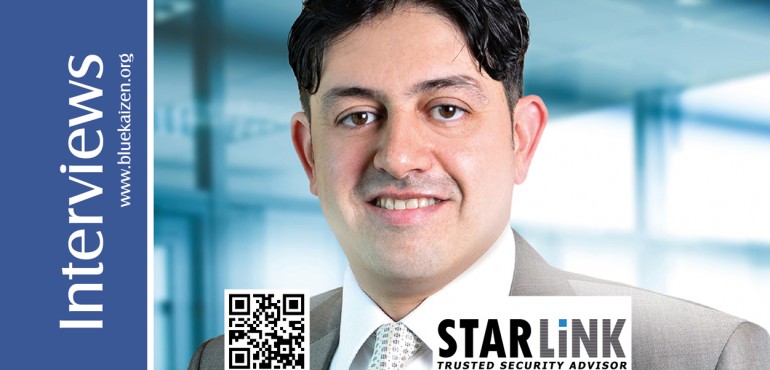 We had an interview with Mahmoud Nimer GM and Co-Founder of the multinational Star Link to give us an overview of the Corporate.
1. Can you please introduce your self to security kaizen magazine readers?
I am Mahmoud Nimer, General Manager and co-founder of StarLink. My role is to
oversee the smooth operation of the value added distribution business
from sales, technical, channel, logistic and finance perspective.
2. Can you give us a quick overview about star link? And the products you provide?
StarLink, is a leading IT compliance and next-generation threat driven
solutions provider, recognized as a "Trusted Security Advisor", and a True Value
Added Distributor. StarLink today is present in 14 countries across the Middle
East, Turkey and Africa regions with physical resources in each of these countries.
The on-the-ground teams in each country offer sales, Pre-Sales and post-sales
services across all products in StarLink's portfolio to the Channel in that country,
as required by Partners.
StarLink has a well-structured model of managing its portfolio of 18 vendors
and has classified its vendors on the basis of Core, Emerging and Growth categories. The core category includes vendors like IBM Infosphere, Guardium,Dell Software, FireEye, SafeNet and Tripwire as these vendors have been in the region for several years now and are doing a multi- million dollar business. Vendors like Boole Server, Guidance Software, IronKey, Gigamon, BlueCoat, Titus, MobileIron have been in the market for couple of years form the emerging solutions category and under the growth solutions category new technology vendors like Bit9, CoreSecurity, IpSwitch, RedSeal Networks, and Venafi are grouped.
This year StarLink has also categorized its solution portfolio into four solution areas like Access Control, Advanced Threat protection, Vulnerability Management and Secure Mobility, as a go to market strategy, where it provides an effective and easy approach for partners to sell to their customer base.
3. What differentiate star link from other security distributors?
StarLink's vision for the Middle East, Africa and Turkey
value-added-distribution business is to continue bringing best-of-breed next-generation security technologies to the region, and most importantly to be a True VAD to vendors, partners and customers. What this essentially means is that to each party, StarLink operates like an extension of their team. For our vendors it means, many of them do not need to have any local presence at all because StarLink is able to offer end-to-end expertise for the vendors' solutions including sales, Pre-Sales, implementation and support. To our partners, many do not have the resources or skill-set to
position, deploy or support all of the technologies that they align with StarLink , but they rest in the confidence knowing that StarLink will be able to provide their end-to-end expert capabilities to them, so that they can in turn deliver exactly what their customers need.
And to our customers, since StarLink's business model is unique whereby we only sell through our channel, like a True VAD should do, but we als maintain Trusted Advisor direct relationships with all customers by consultatively selling to them to understand their business needs and then with our channel, map them to our solution areas, that cover compliance, next-generation threat protection, secure mobility or vulnerability management.
Furthermore, we also create opportunities for partners while simultaneously training and enabling the Channel so that Partners can go-to-market themselves. This significantly assists Partners to realize a quick return on
investment when selling StarLink's technologies, as they almost immediately start receiving qualified opportunities and are guaranteed opportunity protection when they align with StarLink. Value added services is also available to the regional channels like PR and communications, events, telemarketing, email campaigns, focused workshops, direct sales engagements alongside partners, technical presentations, product demonstrations, providing demo equipment, POC deployment, implementation, L1 support, L2 support. Of course all these are optional but are available to the entire channel, and are selected by the channel based on their need.
4. What is StarLink's channel strategy for the Middle East region?
StarLink's channel strategy for the Middle East region is multi-faceted as we have 3 types of partners, and 18 vendors within our VAD portfolio. The 3 types of partners that we work with are defined as Strategic Partners, Partners and Resellers. The Strategic Partners are those that align very closely with us for multiple solutions within our portfolio and commit to revenue, as well as, invest in growing the business by allocating dedicated sales and technical resources to the partnership. They are essentially security focused large system integrators. Secondly, Partners, are usually security-focused VARs and security service providers that align with StarLink on one or more technologies, but do not usually commit to revenue goals and have a limited pool of resources to share across all vendors and distributors they work with. Lastly, the Reseller category covers organizations that are typically opportunistic and do not align on any specific technology area with StarLink, but maintain ad-hoc purchase relationships with us and they come to us when they identify opportunities in which StarLink's products are required.
The company has also introduced the StarLink Choice partner programme aimed to reward partner success with targeted sales incentives and marketing programmes. We believe this will increase visibility and that of partners in the market, improve commitment to both Partners and Managed Partners, grow revenue and the profitability of partners, secure the tech investments that partners are making and challenge the competition.
5. How do you see the security market in Middle East and the emerging markets?
In 2008 the expected fallout was observed from the global recession due to which everyone experienced a slowdown, but the security market has been the complete opposite, infact for us, a spike. We are lucky and privileged to be in a space of the security market that has high barriers to entry, requiring strong expertise which we have invested in. Furthermore with the current threat landscape and compliance regulations impacting this region, the two main drivers for our business, we have experienced a positive revenue growth
for both StarLink and its channel partners over the past couple of years. We have also invested in emerging markets like sub Saharan Africa and Turkey.
These markets currently boasts a highly competitive economy based on the comprehensive integration of IT into all aspects of society and the economy, including smart infrastructure and effective service delivery.
The effective uptake and utilization of IT have made a demonstrable impact on economic progress in these markets and there are clear indications of positive change on development. Hence a change in the IT landscape in these markets are observed, in terms of its maturity, the range of corporate and government projects, and the consumerisation of corporate IT use.
As a result, a growing trend in "cyber threat" is observed, which is one of the biggest problems facing these markets because government and private sectors have yet not taken cyber security to the point where it is a priority.
6. Which sector is focusing more on security (financial, oil & gas, government or others?
As the Middle East is consistently becoming a hotspot for cyber war, which is very much evident by the high-profile breaches of key energy and government assets, its observed that in 2014, higher spends on Information security will be observed more in government sectors, focusing more on strengthening security for national information assets and protection of national frontline against cyber-attacks. Spending in other core verticals like banking and finance, telco, oil and gas, healthcare, education etc wil also be observed but not quite high as governments.