DUBAI, United Arab Emirates, 3rd March, 2016: Infoblox Inc., the network control company, today announced its participation at Gulf Information Security Expo & Conference (GISEC) 2016 taking place at Dubai World Trade Centre between 29th – 31st March,  2016. As the industry leader in DNS, DHCP, and IP address management, the category known as DDI, the company will be demonstrating it's critical network services and solutions that protect Domain Name System (DNS) infrastructure, automate cloud deployments, and increase the reliability of enterprise and service provider networks around the world.
Cherif Sleiman, General Manager, Middle East at Infoblox says, "Our solutions reduce the risk and complexity of networking. The company's solutions automate network-control functions to reduce costs and maximize uptime, and they protect against the rising flood of malware and distributed-denial-of-service DDoS attacks. From discovery, configuration and compliance to DNS, DHCP, and IP address management, our technology automates and simplifies complex processes. And our purpose-built DNS security solutions defend against a wider range of threats than any other product available."
"It's critical that the technology deployed for network control provides maximum protection and offers minimum attack surface. Infoblox clearly differentiates from other vendors from a security perspective. From our highly secure hardware form factor, to our hardened OS, to the variety of security features in our applications—no other network control vendor focuses more on security than Infoblox," continues Cherif.
Infoblox will be using GISEC as an opportunity to also educate attendees about its recent acquisition of IID, a leader in global cyber threat intelligence. Prioritizing threats, getting contextual information and operational viability are top challenges organizations face when trying to assimilate threat intelligence and respond to threats. According to Gartner's 2015 Market Guide for Security Threat Intelligence Services, by 2018, 60% of enterprises will utilize commercial threat intelligence services to help inform their security strategies. However, enterprises still struggle to absorb, contextualize, and respond to the information in an effective manner. Infoblox and IID bring together threat intelligence and enterprise context to take action at the control point of the network. With Infoblox's acquisition of IID, customers can prioritize, protect and predict the security threats facing their networks.
With Infoblox's acquisition of IID, customers will benefit from on-premise synergies of threat intelligence and context driven response, protection for company devices that are off premises and sharing of highly prioritized and actionable threat intelligence to improve efficacy of broader security ecosystem.
"Acquiring IID helps enable Infoblox to offer deeply integrated threat intelligence with our on-premise solutions. This will help give customers more understanding of security events, going beyond what would be possible if we only set up a partnership with IID," concludes Cherif.
Infoblox will be exhibiting at GISEC from Help AG stand number B-100 located in Sheikh Rashid Hall, Dubai World Trade Centre.
-Ends-
Photo Caption: Cherif Sleiman, General Manager, Middle East at Infoblox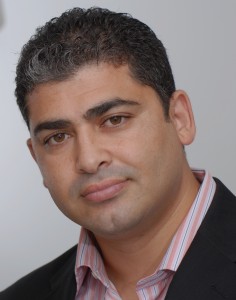 Product Information Contact:
Mr. Cherif Sleiman
General Manager Middle East
Infoblox
Dubai, UAE
Email: [email protected]
Media Contact:
Colin Saldanha
PROCRE8
Email: [email protected]