Microsoft Virtual Academy
"Successful technologists never stop learning and great technology never stops evolving. Microsoft Virtual Academy (MVA) offers free online Microsoft training delivered by experts to help technologists continually learn, with hundreds of courses, in 11 different languages. Our mission is to help developers, knowledgeable IT professionals and advanced students learn the latest technology, build their skills, and advance their careers. MVA is free of charge, and the entire service is hosted on Windows Azure." Microsoft says.
MVA courses vary from courses by topics to courses by products so you are able to create your own learning plan to learn what you want and when the time is right for you. MVA also provides different levels of trainings that differ from beginner's level to professional's level. So students who are entering the world of IT can make use of these courses as well as professionals who are already working. Therefore, no minimum level of technical knowledge is required to take the courses.
Types of courses provided by MVA: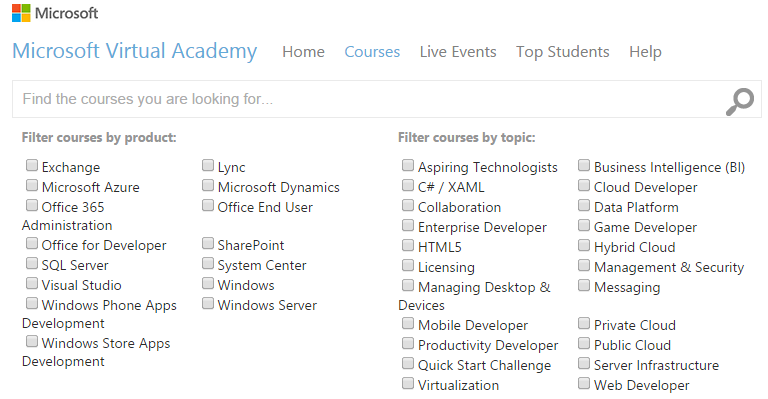 After finishing your preferred course, you will earn points and get certified for each course that you complete on MVA.
You will also be able to benefit from the live events that is designed for people who are interested in growing their IT knowledge.
Register for the live events here:
https://www.microsoftvirtualacademy.com/Live-Training-Events
Example of live events: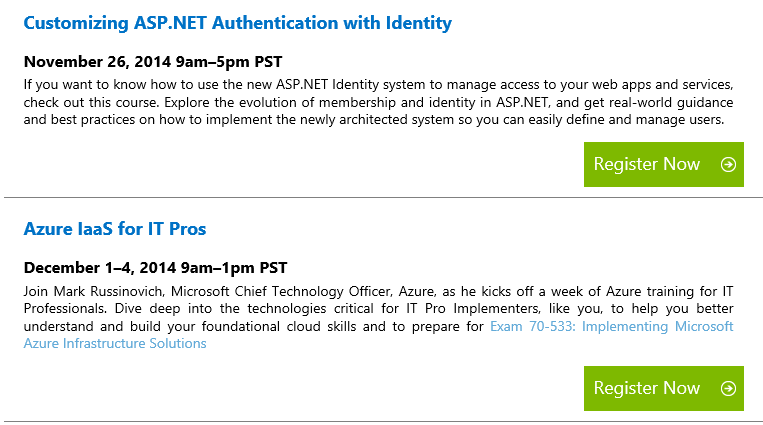 Through MVA, you will be able to:
Get certified for each course that you complete on MVA
Build the necessary skills to help you grow in your professional career with Microsoft technologies
Learn at your own pace and when the time is right with on-demand courses
Build your brand within the developers and IT pro community
Chat real time with experts
Interact with experts and a worldwide audience of learners from around the world through MVA Live Q&A
Access the full library of high quality Microsoft training courses for the latest technologies
Prepare for Microsoft certification exams with FREE online courses
Create your own learning plans to guide and track your progress
Take a FREE online course today: 
http://www.microsoftvirtualacademy.com/